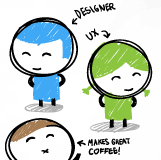 Have you ever wanted to find out who is behind the design, development of a website and wanted to find out who contributed what or even who funded the website? One initiative is pushing website owners to make their site 'human'. In most cases, websites have robots.txt file in the root directory of the website that traverse the web and contains machine related information concerning the website and search engines use them to index pages.
According to humanstxt.org, the purpose is to know the people behind a website. It's a TXT file that contains information about the different people who have contributed to building the website.
It's a voluntary participation and easy to enable this txt file on a website.
Click here to create one. See the humans.txt for my website. See Google's humans.txt, at http://www.google.com/humans.txt.